I've been wanting to buy a smooth-surface, double-oven range for some time now so imagine how excited I was to discover the only working large burner on my current, cheapo, non-self-cleaning, range no longer worked.
(The other one went out pretty much from Day One.)
(That's not entirely true, actually. The other one works just fine as long as you don't put anything on top of it like, say, a pan.)
So naturally I immediately clicked over to Lowes to pick out the perfect slide-in range…only to discover slide-ins are TWICE the price of free-standing ranges.
Proof:
RANGE #1, $1,300: smaller oven conveniently located above large oven but you have to reach over the cooking surface to operate the controls. Not good for Shortie McShortersons like my mom. Also, no bridge element, which I would really like.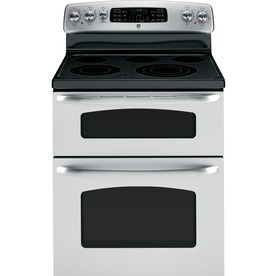 RANGE #2, $2,500: controls conveniently located at the front of the cooking surface. No bridge element here, either, but it has lovely "luxury-glide" oven racks.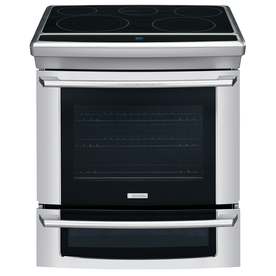 Before you get all "But Sheila, the slide-in is an Electrolux, hence more expensive" I ask you to go price slide-ins on your own. FIND ME A SMOOTH-SURFACE, SLIDE-IN, DOUBLE-OVEN FOR $1,500.
My kitchen is currently set up for a slide-in range but could easily accommodate a free-standing one. It could also accommodate a complete remodel. Sadly, my budget cannot.
So I can get a free-standing double-oven range with pretty much everything I want except for the whole reach-over-hot-elements-to-the-controls thing, or get a sleeker slide-in one for way more money.
BUT WAIT. What's this? The cleaning lady took out the burner element to clean the drip pan and missed the plug-in connection when she put it back? So now my old oven works just fine, as before?
Drat, foiled again.